2 tags
3 tags
Posole in Broth from 101cookbooks.com →
Posole in Broth from 101 Cookbooks blog… this looks great; very warming. I like 'soups' like this that are more a brothy dish than a soupy soup .
ReBlog: "Someone really made my day yesterday... " →
People like the author of the linked blog entry do hard work and are essential to a successful catering job.   We are fortunate to work with lots of great clients who show the type of appreciation described to the great Delicata staff… lekillergnome: Someone really made my day yesterday. I work in catering, when I'm not at college. I'm basically a bus boy. I run the buffet, I rack...
Resuming our facebook presence... →
2 tags
3 tags
3 tags
Cool mobile kitchen design →
2 tags
Dartmouth Class of 1987 25th Year Reunion Welcome... →
This is the buffet menu we provided for 300+ guests at the Thursday night dinner for Dartmouth College's Class of 1987 25th year reunion.   It was a great meal for a fun crowd.   Served lightly warmed to room temperature this menu was an ideal choice for an easy meal on a warm night for a big crowd.
Sandwich Demo →
Cool grilled sandwich visual tutorial…  makes me hungry!
si
cada dia somos mas
The Delicata Catering Website →
Finding this on Tumblr?   See our webite….
3 tags
Dartmouth and Upper Valley Catering
Looking for an upper valley caterer for your Dartmouth event?   Delicata is approved to work at Dartmouth and our kitchen is just five minutes away in Wilder, Vermont.  We can do luncheons for a dozen people; dinners for 100; graduation events for 600;  classics and more creative dishes for you to choose from.  We're flexible and easy to work with and will craft menus to best suit your...
3 tags
3 tags
Tasty Sandwich List →
Some good sounding nyc sandwiches here, although I can do without the fancy ones (no foie gras in my sandwich, please)…   It's 2AM and now I'm very hungry;  and a bit jealous of New York where you can specialize in "big flat Italian falaffel balls"  [#9]…   I don't think I can specialize in panelles here in the Upper Valley, but I can add them to menu -...
1 tag
Delicata back in NYC
We'll be back in NYC for a few days after Christmas.   Vermont destination brides get in touch if you want to meet.
4 tags
We Cater New Hampshire
Delicata is based in Vermont but we're right on the border and do as much catering in New Hampshire as we do in Vermont….   get in touch to discuss your 2012 New Hampshire wedding or event.   
Delicata in NYC
Planning a Vermont wedding for 2012 but live in New York?    We'll be down in the city meeting with couples on Monday, 10/31; Tuesday, 11/1 and Wednesday, 11/2.   If you would like to meet in person to discuss possibilities for your big day and the delectable Vermont catering Delicata can provide  (no charge and no obligation)  then send an email to eatwell@delicatacatering.com
Luna Bleu
Thanks to Luna Bleu Farm in South Royalton, Vermont for all of the chicken and veggies they provided this season.   They have the best chickens around and their Arugula is my favorite…   we love to feature their beautiful food in our meals and menus.
Pink Pork →
I knew it…   no need to be so worried about the color of your pork.   Now even the USDA agrees…   a little pink is fine.   And with the high quality, local pork we use there is truly no reason to be concerned.  So go and enjoy that delicious, juicy pork.  Click on the title for the link.
4 tags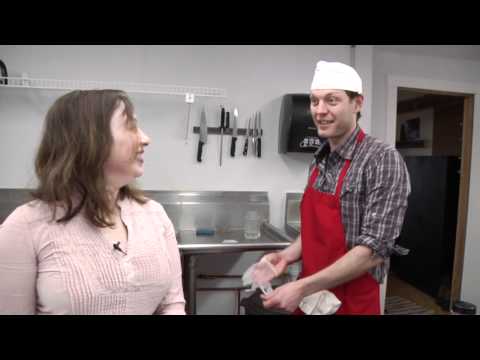 3 tags
Vermont Salumi !
Vermont made salumi from Vermont pigs…   awesome and it's about time.   I just came across this post on the Seven Days website…   the video is actually of the sausage making but Vermont Salumi, as the name says, makes salumi (Italian style cured meats) as well.  I can't wait to get to Plainfield to try it out. There's not too much info on their website - I guess you...
Three Stallion
Check out the Three Stallion Inn in Randolph, Vermont for your next event.   It's a beautiful spot, centrally located just off I-89 Exit 4.  (You'll want to see it in person - the website does not quite do it justice.)    A nice choice for meetings, reunions and weddings alike - they really can accommodate a wide range of events at competitive rates.  Plus they have a nice pool, a...
6 tags
Wine, Brandy and Cider
Valley Food and Farm has some good suggestions for local wine, brandy and ciders…  This seems to be one of the faster growing segments for value added local foods - and a welcome one.   Whether on the bar or used in the food, these drinks are a nice, local touch for Vermont and New Hampshire weddings and are fun at any party. Here's the list from the VF & F newsletter, Tidbits ...
Junior Iron Chef
I had a great time helping to coach two Junior Iron Chef teams from Sharon Elementary.   The final competition was this past Saturday in Essex…   a lot of fun and the kids did great and had a good time cooking.   Thanks to VT-NOFA and FEED for putting on the competition, to Senator Sanders for showing up to lend some support, and to the kids for having me help out. JC
VAWP at the Blue Horse
Catering a small bites cocktail party on Wednesday, March 30 at the Blue Horse Inn in Woodstock, VT…  it's in conjunction with the Vermont Association of Wedding Professionals conference on social media being conducted at the Woodstock Inn.   Sabrina Brown from Woodstock Productions and the folks at the Blue Horse are hosting the reception.   Come by and have a bite…   make it...
New Delicata Catering Website
Welcome to the new Delicata Catering website!   Please have a look around and contact us  with any questions or inquiries. Delicata is located in the heart of Vermont and New Hampshire's Upper Valley.  Convenient to Dartmouth, DHMC, Woodstock, Lyme, White River and Norwich and we're a great choice for all types of events from festive weddings to intimate dinner parties to formal...
Try this Sandwich
This sandwich sounds incredible and will be a happy addition to the Delicata selection -  I love how it's all self-contained and obviously delicious.  Juicy grilled steaks layered with sauteed mushroom and all layered inside a hollowed out round loaf, then wrapped and pressed for six hours while all the flavors mingle and soak in.   Called the "Shooter's Sandwich" this is British version of...